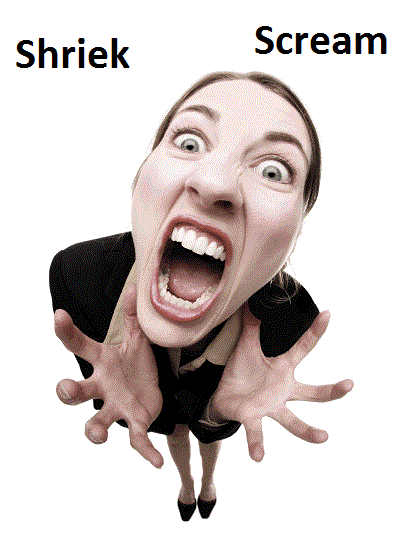 لغت نهم از درس ۲ کتاب ۵۰۴
Shriek / ʃrɪːk /
Scream
جیغ زدن، جیغ
The maid shrieked when she discovered the corpse.
  وقتی خدمتکار جنازه را پیدا کرد، جیغ کشید.
With a loud shriek, Ronald fled from the room.
  با یک جیغ بلند «رونالد» از اتاق گریخت.
Facing the peril of the waterfall, the boatman let out a terrible shriek.
  وقتی قایقران با خطر آبشار مواجه شد، فریاد وحشتناکی کشید.
کدها و رمزهای یادگیری این لغت:
کدینگ۱: شرک اومده بود تو خونمون مامانم دیدش از ترس جیغ کشید!
کدینگ۲: شرک رو میشناسین ؟ غول سبزه ! تصور کنید داره جیغ و فریاد میزنه !
کدینگ ۳: یه شریک خوب اونیه که وقتی موفقیتت رو می بینه جیغ بکشه.