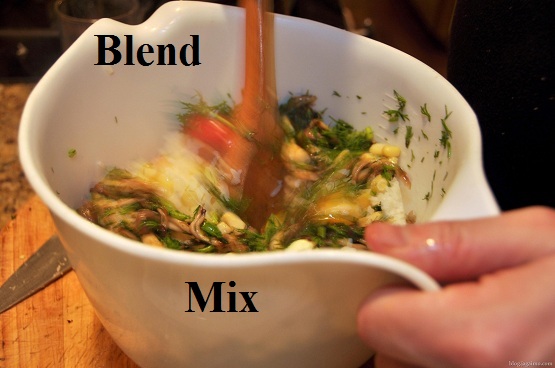 لغت هفتم از درس ۳ کتاب ۵۰۴
Blend / blend /
Mix together thoroughly; a mixture
کاملاً باهم ترکیب کردن، مخلوط
The colors of the rainbow blend into one another.
  رنگ های رنگین کمان با یکدیگر ترکیب می شوند.
A careful blend of fine products will result in delicious food.
  ترکیب دقیقی از فرآورده های خوب به غذایی خوشمزه منجر می شود.
When Jose blends the potatoes together, they come out very smooth.
  وقتی که «جوز» سیب زمینی ها را با هم مخلوط می کند، خیلی نرم می شوند.
کدها و رمزهای یادگیری این لغت:
کدینگ۱: خانمایی که می خوان موهاشون رنگش بلوند بشه باید چند تا رنگ رو با هم مخلوط کنن!
کدینگ۲: گل بلندر مخلوطی از گل های دیگه هست.
کدینگ۳: بلوند ؟ بٌلند ؟ پس چی ؟ یه چیزی همینطوری قاطی کردن شده بلند !