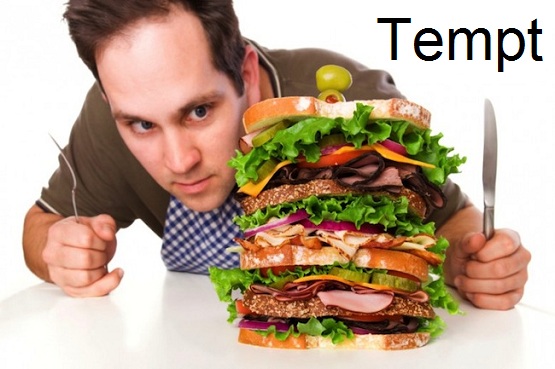 لغت یازدهم از درس ۲ کتاب ۵۰۴
Tempt /tempt /
Try to get someone to do something; test; invite
تلاش به وادار کردن کسی به انجام کاری، امتحان کردن، دعوت کردن، وسوسه کردن
A banana split can tempt me to break my diet.
  دسر موز می تواند مرا وسوسه کند تا رژیم غذایی ام را بشکنم.
The sight of beautiful Louise tempted the bachelor to change his mind about marriage.
  دیدن «لویس» زیبا، مرد مجرد را وسوسه کرد تا دیدگاهش را نسبت به ازدواج تغییر دهد.
Your offer of a job tempts me greatly.
  پیشنهاد کار شما مرا بسیار وسوسه می کند.
کدها و رمزهای یادگیری این لغت:
کدینگ۱: تو این عروسیا تمپو که میزنن آدم همچین وسوسه میشه بره وسط یه قری بده !
کدینگ۲: من امتحان کردم که پاک کردن فایل های تمپت تو کامپیوتر، سرعتشو بالا میبره،