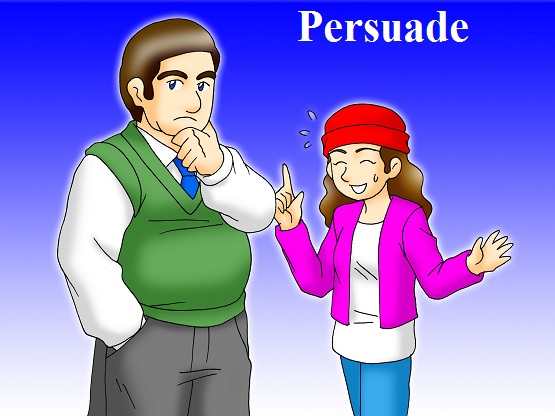 لغت پنجم از درس ۳ کتاب ۵۰۴
Persuade / pər'sweɪd /pə's /
Win over to do or believe; make willing
متقاعد کردن، راضی کردن
Can you persuade him to give up his bachelor days and get married?
  آیا می توانی او را راضی کنی که دوران مجردی اش را رها کند و ازدواج نماید؟
No one could persuade the captain to leave the sinking ship.
  هیچ کس نتوانست ناخدا را متقاعد کند تا کشتی در حال غرق شدن را ترک کند.
Beth's shriek persuaded Jesse that she was in real danger.
  فریاد «بت»، جسی را متقاعد کرد که او در معرض خطر واقعی است.
کدها و رمزهای یادگیری این لغت:
کدینگ۱: پرسوئد = بره سوئد ! دوستم رو قانعش کردم بره سوئد !
کدینگ۲: شرکت از بس پرسوده به کارمنداش حقوق خوب میده با این کارش اونا رو متقاعد میکنه که خوب کار کنن.
کدینگ۳: کشور سوئد از بسکه آروم و خوب هست همه از زندگی که دارن قانع هستن.