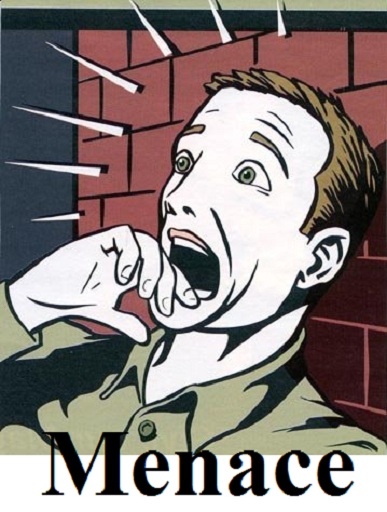 لغت هفتم از درس ۱۰ کتاب ۵۰۴
…………………………..
Menace / 'menɪs /
Threat
lrv's lack* of respect made him a menace to his parents.
The torrents* of rain were a menace to the farmer's crops.
Sergeant Foy's raw language was an obvious* menace to the reputation of the entire police department.
تهدید
بی احترامی "ایرو" برای والدینش تهدیدی بود.
سیل باران برای محصولات کیاورز یک تهدید بود.
زبان خشونت آمیز گروهبان "فوی" تهدیدی برای اعتبار تمام اداره ی پلیس بود.
کدها و رمزهای یادگیری این لغت:
کدینگ۱: (با لهجه اصفهانی) اون اسناد مال منِس، هر کی بخواد منو تهدید کنه، منتشرش میکنم.